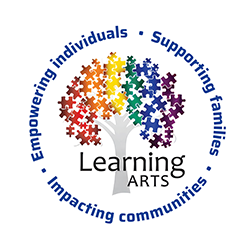 Explore a Career in ABA Therapy.
Nothing Compares to a Career in ABA Therapy
Imagine the feeling of helping a non-verbal child express their feelings for the very first time. This magical experience is why we've chosen to use the AI-generated photography you see throughout our site: because it captures the incredible feeling of helping another human being achieve a milestone they once thought impossible.
At Learning ARTS, we believe that a career in Applied Behavior Analysis (ABA) therapy is unlike any other. It's a profession driven by compassion, dedication, and the profound impact we make on the lives of children and families every day.
Why Work for Learning ARTS
Learning ARTS is a community of caring professionals who are dedicated to making a positive impact in the lives of individuals within the autism spectrum and their families.
As part of the clinical staff at Learning ARTS, you'll have the opportunity to work with a diverse range of clients and apply evidence-based interventions to help them achieve their goals. You'll also benefit from a supportive and collaborative work environment, a focus on work-life balance, ongoing professional development, and a commitment to ethical and transparent practices.
If you become part of the administrative team at Learning ARTS, you'll play a crucial role in supporting our mission to provide exceptional autism services. You'll contribute to our organization's success by ensuring smooth operations and efficient administrative processes. In our collaborative work environment, you'll work closely with colleagues from various departments and have the chance to make a meaningful impact on the lives of our clients and their families.
More than a Job!
Learning ARTS is more than just a job – it's an opportunity to make a real difference in the lives of individuals within the autism spectrum and their families. Our staff is drawn to our opportunities for clinical experience and the chance to work with a community of individuals who share their passion for helping those with autism reach their full potential. In addition, we value a culture that encourages collaboration, promotes communication and transparency, and fosters a sense of community.
Whether you're just starting your career or looking to take your skills to the next level, if you want to make a real difference, Learning ARTS is the place for you.
Explore our Current Job Openings: