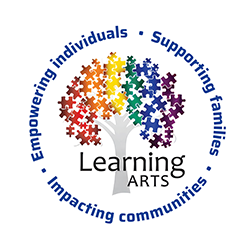 Learning ARTS Veterans Opportunities
At Learning ARTS, we believe in the extraordinary talents, dedication, and unwavering commitment of our nation's veterans. We are proud to honor and support those who have served our country and are eager to bring their unique skills and experiences to our team. Our commitment to hiring veterans is a testament to our belief in the value they bring to our organization and the communities we serve.
Why We Value Veterans at Learning ARTS
Veterans embody a remarkable set of qualities that align seamlessly with our mission of transforming lives through education and support.
These qualities are:
Service Ethic: Veterans have a strong sense of duty and service, which aligns perfectly with our mission to empower and support individuals with developmental challenges. Their commitment to making a positive impact is evident in their every action.
Adaptability: The ability to adapt to diverse situations and environments is a hallmark of veterans. Their resilience and flexibility make them well-suited to address the unique needs of the individuals we serve.
Teamwork: Collaboration and teamwork are at the heart of what we do at Learning ARTS. Veterans have a deep understanding of the importance of working together toward a common goal and fostering a sense of camaraderie among their peers.
Problem-Solving: Veterans are trained to tackle complex challenges head-on. Their problem-solving abilities, coupled with their determination, are assets in providing innovative solutions for the individuals under our care.
Leadership: Veterans are equipped with exceptional leadership skills, honed through real-world experience and training. Their ability to lead by example, adapt to changing circumstances, and make quick decisions is an invaluable asset in our dynamic work environment.
Learning ARTS' Commitment to Veterans
We are committed to creating a welcoming and inclusive workplace that honors the contributions of veterans.
Here's how we demonstrate that commitment:
Training and Development: We provide ongoing training and professional development to help veterans transition seamlessly into their roles. Our goal is to empower them to thrive in their new careers and continue to grow within our organization.
Supportive Environment: We foster a workplace culture that values diversity and inclusivity. Veterans are encouraged to bring their unique perspectives, experiences, and insights to the table, contributing to our innovative and collaborative environment.
Recruitment and Outreach: We actively seek veterans for employment opportunities at all levels within our organization. We partner with veteran-focused job boards, organizations, and career fairs to connect with veterans seeking meaningful careers.
Join Our Team!
If you are a veteran looking for a purpose-driven career where your skills, experiences, and commitment are not only valued but celebrated, we invite you to explore opportunities at Learning ARTS. Join us in our mission to make a difference in the lives of individuals with developmental challenges and continue your journey of service in a new and meaningful way. Together, we can transform lives and build a brighter future.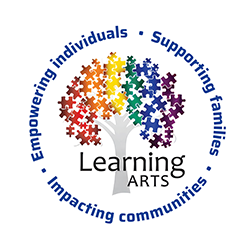 If this sounds interesting to you, we want to hear from you!
You can contact us for more employment information at hr@learningarts.com.